New Years Eve in North Korea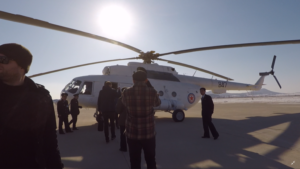 New years eve. The day of remembering. Remembering where you've come from and what made you stand where you stand today. The eve where you look ahead enthralled by the awaiting mysteries you're going to have. Few nights are as memorable as this, and I spent mine in North Korea.
New years eve started for me the same as most my days had the last year, waking up in a hotel room, trodding down to the breakfast buffet before I had time to actually wake up. However, what awaited me in the buffet was no warm hall filled to the brim with people and food, but rather a big, cold empty room, with a narrow table filled with a mix of western and eastern breakfasts foods. Heck, even half the food was cold. Not many from my tour group bothered to be early for breakfast. Whether that was because the breakfast menu was always the same, consisting of kimchi, tofu, and maybe some hot noodles, or because we had too much soju last night is still unclear. The biting cold in the hotel was no help either, as the air cons were few and far between.
Having chowed down some tofu and strange-looking fried chicken, we all went out to our tour bus, the bus that had taken us all over Pyongyang. The first half of this new year's eve was nothing special, consisting mainly of museums and monuments. But the museums, the cold food, nor the biting negative 16 degrees wasn't the main reason I went to North Korea. It wasn't enough to just travel to North Korea; I also wanted to ride in a helicopter and hear explosives. Unfortunately, my wet dream did not come true as there were no fireworks to be seen this early in the day.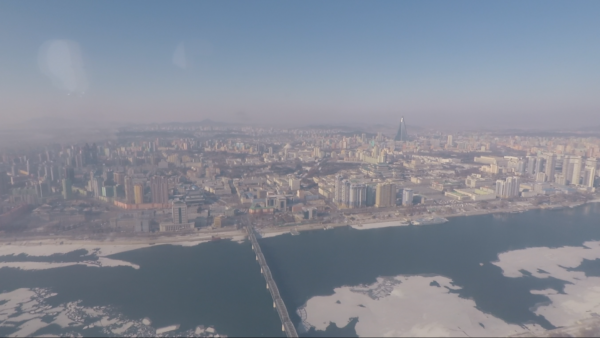 From the Pyongyang airport, we flew a round trip towards downtown Pyongyang. If it ever felt like I was in a place I wasn't allowed to be in, let me tell you, this was it! As we flew towards the skyline over these small rural villages, looking down at people just carrying on with their daily lives, I could've sworn I saw some anti-aircraft bunkers in between some of the villages. I never did manage to get a clear photo of it, though. Flying over Pyongyang, you couldn't really tell it apart from any other city if you didn't already know it was, in fact, the capital of North Korea.
However, If you do ever decide to go to North Korea and decide to take this helicopter ride, do not be fooled! I was we were going to be flying in an old Russian helicopter, and naturally, I had immediately imagined the cool green helicopters that Forrest Gump flew in in Vietnam. Doors open, earphones on, and legs nearly falling off due to the biting cold. Of course, with this in mind, I put on everything I had of wool, winter clothes, ski suits, and my favorite ushanka.
However, the helicopter was not the one Forrest Gump used, but rather a much more comfortable and highly decorated one. In fact, this looked more like an '80s decorated living room, fully equipped with couches with flower patterns, flower arrangments, tables, and air conditioning.
Before this, I would've been ecstatic to be in the vicinity of a working aircon, but the problem today was that it was working way too well. So with the thermostat set to 26 degrees and the 'airline crew' in light shirts, it's safe to assume I overdressed.
Future travelers: be aware, ushankas and ski pants do not go well in a 40 minute, 26-degree hot helicopter trip.
The explosions were heard later in the evening after we landed when my group of 30 and I arrived at the capital where everyone, including us, guides and locals, was under the intoxication of sweet Korean rice wine. Or Vodka, who knows.
As we rolled up to the Kim Il-sung Square, we looked at the ever-growing crowd of Koreans: more than 100,000 North Koreans had already gathered.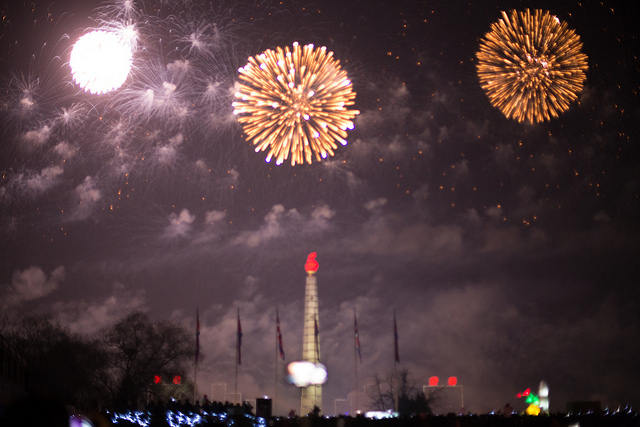 "We have now arrived at Kim Il-sung Square, and you're free to explore and walk around until 12:30. We'll meet back here on the bus", our tour guide said.
Almost before that sentence was finished, half the group had already leaped into the crowd, like kennel dogs just released from their cages running with great speed towards freedom. This was the first time we had been allowed to leave our tour group.
Phrases like "Happy New Year" and "Merry Christmas", that was learned in a previous sober state of mind were now very distorted and incomprehensible, but repeated it back to us in Korean with the biggest smiles! We had after all been drinking for 3 hours, both snake juice and 50 cent beers. Also, there was no law against public drinking, so almost everyone on our group brought along beers and perhaps a cardboard box of snake juice. Okay… it was only me who brought beer and snake juice.
The firework started precisely at midnight and is, to this day, still the most surreal fireworks I've ever experienced. No private citizen is allowed to own fireworks in Korea, so the government made sure to have more than enough for every person present.
The atmosphere was just as amazing the fireworks as the audience both cried, screamed, and clapped for every major explosion. The enthusiasm was on top, but when the last of the firework was shot up, it was if someone had pulled out the plug in an overfilled bathtub. Thousands of Koreans ran to their cars like the ants who fled from their nest as you poured boiling water down because you were sick and tired of the path they made in your bedroom when you were a tour guide in Nicaragua.
In just a few short minutes, the number of people at the square was halved, but there were still over 50,000 people there, who, like my group, did not care to go home.
Being the first time we were truly free on our 6-day adventure, more than half my group was nowhere to be seen. Most had either gotten engrossed in conversations with the locals, enthralled by the ice park at the end of the square or was simply too busy drinking snake juice to notice it was time to go home.
This resulted in a half-hour-long search for the remaining guests before the guides finally managed to gather everyone and threw us on our faithful bus. Half an hour of overtime may not sound too much, but with the strict schedule we followed, it was extra stressful for our drunk guides, except for the tour guide Cheung, who took the rest of my snake juice and did not have a care in the world. However, when the bus departed for the South Korean border 7 am the next morning, Cheung boarded our bus with a face full of regret, and still with the taste of snake juice in the back of his throat.
With last year's new years eve in mind, I can't help to wonder where I will be for my next. Will I be in Australia, Afghanistan, or maybe back in Norway? Who knows. Do you know where you're celebrating? Let me plan it for you!