10 most unexpected things I saw in North Korea
Going to North Korea was a pretty weird and surreal experience, but some things really stood out. Here are the 10 weirdest and most unexpected things I saw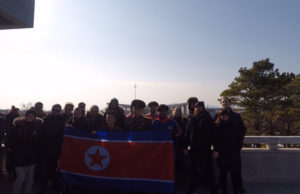 The number of personal vehicles
With a population of over 2.5 million, it was astounding to see the number of cars in the capital. There were plenty of cars to be seen, but it was the lack of a particular type of car that got my attention. Every car that drives on Korean roads has a unique license plate color that indicates to whom the vehicle is registered to. Blue license plates mean they're owned by the government; black is military-owned, green and red are diplomats, and yellow is reserved for private citizens. As you might have guessed, there was an overwhelming majority of government and military-owned vehicles. We even saw quite a few red and green license plates. But the yellow were few and far between. On our 6-day tour, I counted a total of 4 yellow license plates. Guess it's pretty hard to get your own car in Korea.

Traffic jams
As one would expect in a city of 2.5 million, Pyongyang also had its fair share of traffic jams. For some, this might come as a no-brainer, but before setting off on my journey to North Korea, I had never stopped to think about the car situation. Although the number of private cars is limited, there's no shortage of government and military-owned vehicles, and as such, traffic is bound to be congested. Looking back on it now, there's no surprise that our tour group got stuck in traffic and had to re-route multiple times, but there and then, we were both amused and confused by the sudden realization that Korea got cars.
They all got free apartments
To obtain a car in North Korea is by no means impossible, but to get one, you need to choose one out of three wages you can choose from. In Korea, every able-bodied male and female has to work, and everyone in Pyongyang gets to choose their salary and benefits. We were told there were three levels to choose from, where the first level you'd get a free apartment, free food, radio, tv, a fully equipped kitchen, and everything you would need for an apartment. However, with this option, you would get barely any money to save. The other options provided fewer benefits, but more money for you to spend on whatever you wanted, while the third level gave the most money, but the least benefits. It was not uncommon for a family to divide up the different levels between them, to get the most benefits and the most amount of money.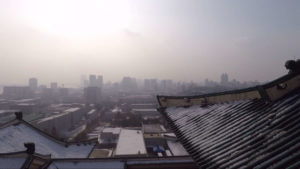 The unnecessary jobs
As everyone in Korea has to have a job, we got to witness the ingenuity of the Korean Government first hand. Driving along the highway we'd see men and women either sweeping the roads with straw-brooms or people chopping ice. While clearing the roads from ice seems like a meaningful job on its own, it's when this is done 10 feet off the highway on the grass, one might start to question how useful it actually is. All along the highway, you would find people chopping ice on the stretches of grass running along the roads, with a man shoveling the ice away from the chopper. Where did they put the ice they shoveled away? Well, 1 meter to the left where another man was chopping some more ice. Guess showing up for work is more important than actually doing something.
The number of people we met/interacted with
Going to North Korea, I expected only to see a handful of specially selected people that we were supposed to meet. So it came as quite the shock to me as we stood on top of the escalator with huge eyes, as we descended down to the metro, into a sea of thousands of Koreans on their daily commute. On the metro, we stood shoulder to shoulder, and also at some museums, we could see other groups of visiting Koreans or groups of school children, all of whom waved and smiled ear to ear upon the sight of our group.
Also, in the waterpark we went to, there was no one stopping us from walking about and talking to the locals rushing down the waterslides or lounging by the pools or in the sauna.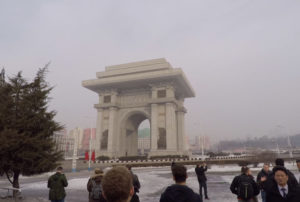 All construction was done by the military
If you want to do construction instead of sweeping the highways or chopping ice, you're in tough luck. We passed many construction sites where they either repaired or built new buildings, but the familiar yellow hi-vis vests and hard-hats I was so familiar with back in Norway were replaced with green uniforms and ushankas. In North Korea, only military personnel are allowed to do any construction, which also means you're not allowed to take photos of construction sites.
The number of female soldiers
While North Korea's conscription is run on a "volunteer" basis, it's very hard for a young person to refuse to volunteer for military service. This, alongside the societal pressure of enlisting in the army, has resulted in the DPRK having nearly a third of its citizens either currently in the armed forces, or as reserve military. The shocking part however, was the vast amount of female soldiers we saw. In some parts of Pyongyang, we'd see whole platoons consisting of only females, and when visiting Kumsusan Memorial Palace, around half the soldiers were female.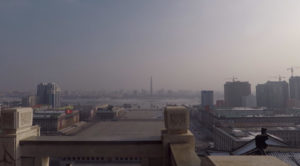 How cold it was
Now, I know what you're thinking: "Thomas, you were there during the middle of winter; you can't say that the cold was surprising." Sure the temperature was never really more than -15 degrees Celsius, but why did the inside of buildings have to be so cold? No matter where we went, we had to wear our winter jackets (except for this sweltering hot helicopter ride). We were shown the biggest and most glorious buildings, but if we tried to take off our jackets while inside, hypothermia would get to you faster than seagulls after your chips. One reason behind this could be that most rooms and buildings were too big compared to the Aircons they used, or the….
Power outtakes
Before coming to North Korea, I had heard of the power outages but assumed that it was only western propaganda. But sure enough, 20 minutes after arriving at our hotel, we lost power.
My roommate and I had just put our bags in our room and were headed towards the elevator only to see the elevator doors close right in front of us. After about 0.7 seconds, everything goes black, and all we can hear is the screams of two of our fellow travelers who were stuck inside the elevator. The power eventually returned as the backup power generator switched on, but throughout our vacation, the power occasionally went out, and the huge buildings we visited remained un-airconditioned, and the girls afraid of the elevators.
The cold food
From the very beginning, when I started traveling, one of the most important things for me have been to try out local cuisines. I find it to be an excellent way to experience local culture, and I always try and sneak in some weird dishes, like the pig anus in Hong Kong. I've tried a lot of strange dishes over the years, with a whole range of different flavors, but one thing I never seem to be able to enjoy is cold food. Why not just heat it up? Well, in Korea, they did the opposite. They would cook food, it would be hot, and then they made it cold! And no, not room temperature, but cold; they actually put effort into making the dishes cold. On our 6 day tour, we had cold soups, cold meats, cold stews, and worst of all: cold tofu.
Did any of these points surprise you? Want to let us surprise you with a mystery holiday?